Oil Tanned Leather Haversack with Blanket Straps (Blanket not included)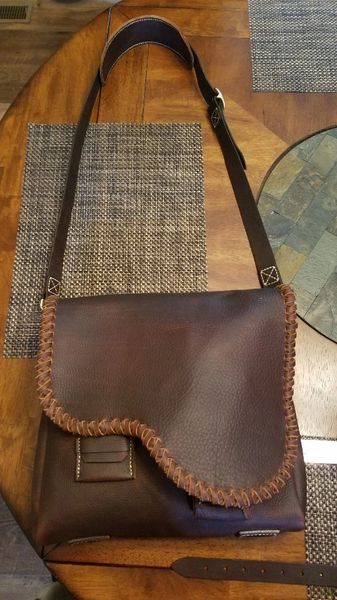 Oil Tanned Leather Haversack with Blanket Straps (Blanket not included)
Oil tanned leather haversack hand-sewn with artificial sinew.
The haversack dimensions are 13 1/2" W x 12 1/2" H with a 2 1/2" gusset. 
All solid brass hardware with an adjustable Horween leather strap. The strap is adjustable from 41 3/4" to 
59 1/4" and are 1 1/4" wide.
The front flap has a X style pattern around the border done with oil tanned leather lace.
The front of the haversack has a sewn on burning lens holder with a 2" burning lens included.
The front also has a pouch that is made for a Bahco Laplander Saw. The pouch will fit a saw with dimensions up to 9" H x 2 1/2" W x 1 1/4" L.
It comes with 2 Horween leather blanket straps with solid brass hardware. They are hand-sewn with artificial sinew. The straps measure 26 1/4" over all length and are 1" wide.
Reviews