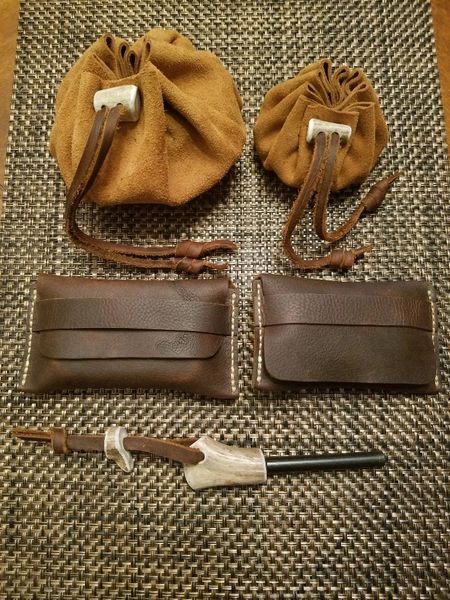 The Tinderbox Fire Kit
This fire kit is made with quality Kodiak leather and suede. This kit comes with the following
6" suede leather pouch filled with a generous amount of birch bark, jute twine, 100% cotton rope for charring and fatwood.
4" suede leather pouch with a 2" burning lens with a Kodiak leather case, small tin with 100% cotton rope and a slow match with a brass snuffer.
5 1/2" w x 3" h x 1 1/2" l Kodiak leather case with an Altoids tin that contains Bic lighter, waxed cotton rope and 100% cotton cloth for charring.
4 1/2" w x 2 1/2" h x 1" l Kodiak leather case that contains flint and a steel striker.
Deer antler handle fire steel. The fire steel measures 3/8" x 4" . The fire steel is set in the handle with epoxy. 1" of the fire steel is in the handle leaving 3" of usable rod.
This is an awesome fire kit made with high quality leather that will last forever. All of the leather has been hand-stitched with artificial sinew. This kit should last you a lifetime with proper care. I also sell the deluxe fire kit refill.

Reviews